Fundraising Trip
Adventures in Rwanda culminating in Maison Shalom 30th Anniversary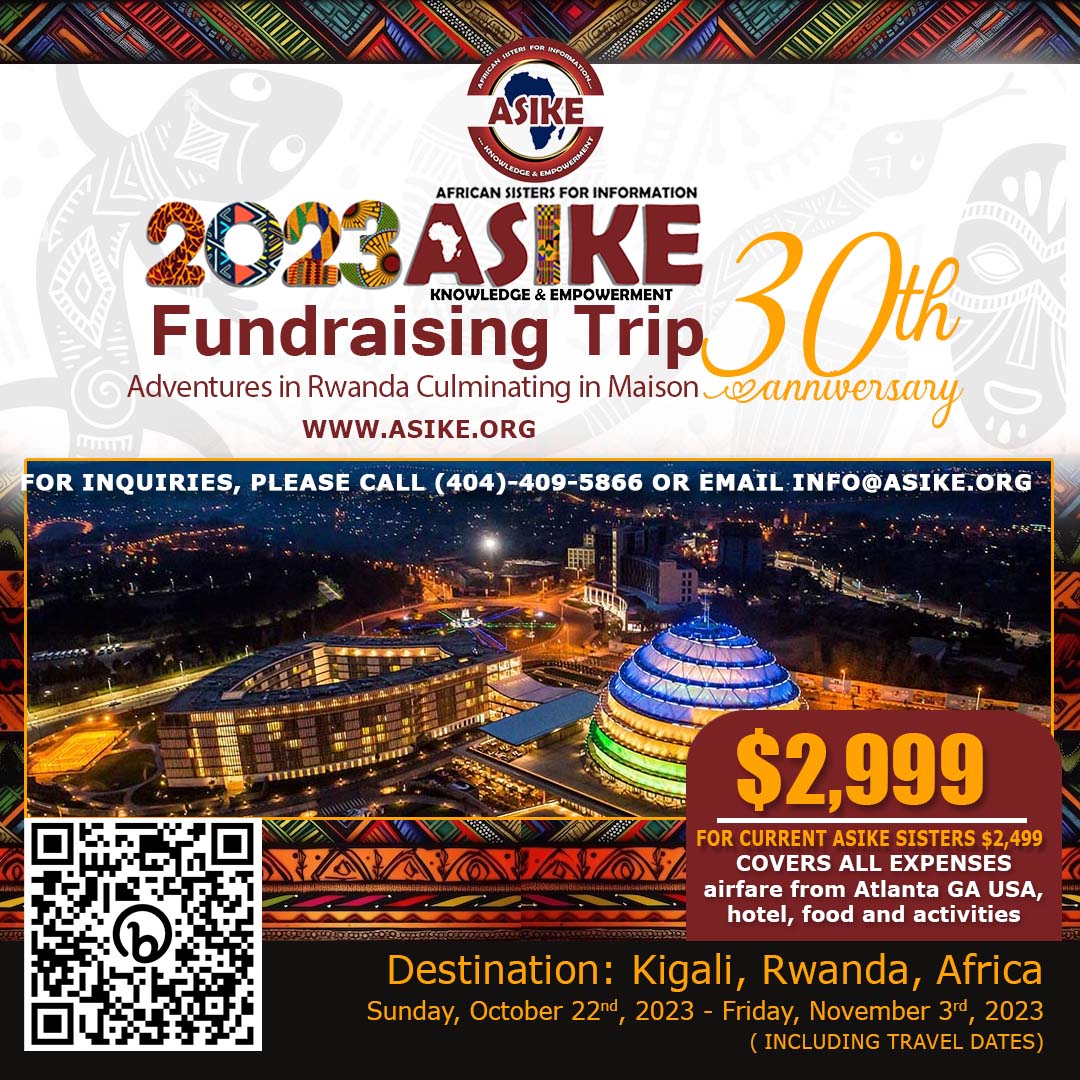 What to expect?
itinerary *subject to change

Day 1 – Depart Atlanta, GA
Day 2 – Arrive in Kigali, Rwanda
Day 3 – Inauguration & tour of Ecole Sainte Anne Kigali; Festive cultural celebration.
Day 4 – Ubuntu panel; 30th Anniversary festivities at Maison Shalom
Day 5 – Visit inspiring refugee camp
Day 6 – Day 7 – Overnight stay at Akagera Wildlife Park
Day 8 – Visit with ASIKE Shero, Sister Marguerite Barankitse, founder Maison Shalom
Day 9 – Sightseeing and shopping in Kigali, Rwanda
Day 10 – Visit ASIKE-sponsored girls at school, at home plus volunteer activity
Day 11 – Day of joy at Maison Shalom with ASIKE Sponsor-A-Child (S-A-C) girls and their families
Day 12 – Depart Kigali, Rwanda
Day 13 – Arrive Atlanta, GA
Who Is ASIKE:
You are ASIKE. Everyone that supports the mission of redefining the image of the African woman through awareness, education and Sisterhood is ASIKE.
ASIKE has a long-standing relationship with Sis Marguerite Barankitse and has a beautiful long-standing relationship with Maison Shalom, now sponsoring the education of 13 girls. It is for this reason that ASIKE is choosing to culminate the 2023 fundraising trip with the Maison Shalom 30th anniversary celebration.
Join us for this wonderful fundraising trip – traveling for fun and for a cause
Questions Call (404) 409-5866
Important 
Trip cost (covers all expenses – airfare from Atlanta GA USA, hotel, food and activities)

Included in the trip cost: shared room lodging. Upgrade to single room occupancy available for an extra charge.

Requirements:

Spirit of adventure
Love of fun
Passport (valid for 6 months beyond the trip with at least 1 blank passport page)
Visa (if not US-citizen)
Up-to-date shots (if applicable)

If you are not able to go on the fundraising trip, join our live virtual events right here and donate
Proceeds from the fundraising trip go to Maison Shalom and ASIKE Sponsor-A-Child (S-A-C) Program
Join us on this adventure! Secure your spot TODAY by either going all-in with a full payment or jumping in with the first installment.